Anna is wrapping up Kindergarten.  We've been really proud of her progress this year.  She's been bitten by the reading bug.  Now instead of me reading stories to her, viagra she's reading them to me!
She demonstrated her new skills to Grammy: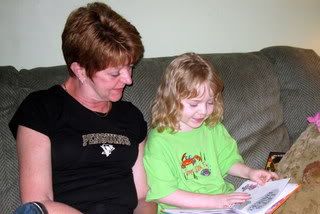 When she was two, visit she'd bring me this book and demand "Read Ham Ham!"
Friday morning at breakfast she couldn't tear herself away – would the man try the green eggs and ham?  We were on the edge of our seats!  (note cereal growing soggy in the background)
I wouldn't be at all disappointed if she grows into a total bookworm.